The 59th Annual Biological Safety Conference
was held September 30th – October 5th, 2016
at the Gaylord Texan Resort & Convention Center, Grapevine, TX
Media Downloads
Certain program items have been recorded and are available for purchase.
Presentations available for download where indicated on the program
Online Program
---
Downloadable Program
Download PDF versions of the daily Scientific Program agenda with attached abstracts. (password protected. Contact the ABSA office for password)
---
Special Event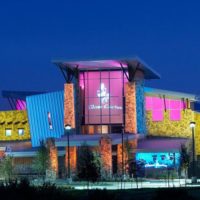 Howdy y'all and welcome to Texas. ABSA International and the Local Arrangements Committee have planned an exciting evening for you as we enjoy good Texas BBQ with all the fixin's, watch the sun set over Lake Grapevine, and dance throughout the night to local entertainment.
We will host this Texas shindig at the Glass Cactus Night Club located within walking distance from the Gaylord Texan. The Glass Cactus has an extensive collection of local and specialty brews and a range of seating from balcony areas to an outside deck overlooking Lake Grapevine.
Boots and belt buckles? If you got 'em, bring 'em. Even if you ain't got 'em, we'll still teach you how to two-step across the dance floor Texas style.
---
Award Presentations
Monday, 8:30 am – Arnold G. Wedum Memorial Lecture Award
Tuesday, 8:05 am – Griffin Lecture Award
Tuesday, 11:00 am – Eagleson Lecture Award
Wednesday, 11:35 am – Arnold G. Wedum Distinguished Achievement Award
Wednesday, 11:35 am – Everett J. Hanel, Jr. Presidential Award
Wednesday, 11:35 am – John H. Richardson Special Recognition Award
Wednesday, 11:35 am – International and National Poster Awards
Wednesday, 11:35 am – Hashimoto Award for Service and Honor
Wednesday, 11:35 am – Recognition of Certified Biosafety Professionals and Registered Biosafety Professionals
Wednesday, 1:30 pm – Robert I. Gross Student Award
Wednesday, 2:00 pm – Richard Knudsen Award
---
Registration
The Registration Desk will be open Friday through Wednesday from 7:00 am – 5:00 pm.
---
New Member Reception
The reception for new members will be held Sunday from 5:30 – 6:30 pm.
---
Opening Reception
The Opening Reception will be held Sunday from 6:30 – 8:00 pm in the Exhibit Hall.
---