Arnold G. Wedum Awards
Arnold G. Wedum is revered as the person most responsible for creating the biosafety profession. He was a caring and wonderful mentor for many of the early leaders of ABSA. His traits of determination and persistence served biosafety well. He was one of the first to publish papers on how infectious aerosols were created in the lab and how to control those aerosols. He was a brilliant man whose knowledge of biological safety was sought by the leaders of the United State's biological research community. The NIH Advisory Committee valued his council regarding safety practices appropriate to recombinant DNA research.
Dr. Wedum's intellect, his deliberate and careful style in assessing hazards, and his vast experience remain instructive to all of us today. He brought to light the fundamental concepts of our profession. His lifelong efforts promoted occupational health and safety in infectious disease research and gave our profession credibility and a valid scientific relevance.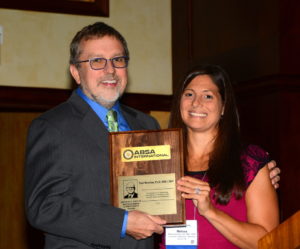 2016 Recipient: Paul Meechan, PhD, RBP, CBSP, Centers for Disease Control and Prevention
In recognition of his outstanding contributions in teaching, research, service and leadership this year's G. Wedum Distinguished Achievement Award recipient is Paul Meechan. Paul received an undergraduate degree in Biology and Chemistry from SUNY College, a Ph.D. in Radiation Biology from the University of Rochester, and a Master's of Public Health and Safety Management from Tulane University. Paul holds RBP and CBSP certifications from ABSA International and a CHMM certificate. Paul is the Senior Advisor for Laboratory Safety in the Office of the Associate Director for Laboratory Science and Safety where he has the responsibility for providing expert safety advice to leadership on regulatory issues that face laboratories at the CDC and serves as a liaison between the Office of the Associate Director of Laboratory Science and Safety with other EHS offices within the CDC. Paul is a Past President of ABSA and also served two terms on the ABSA Council as Secretary. He has served as the Nominations Committee Chair and on many Federal task forces and committees. He served on the Mid-Atlantic Biological Safety Associations (MABSA) council as Secretary, Treasurer, President-Elect, President, and Past President. He is currently President Elect for South Eastern Biosafety Association (SEBSA) as well as the Biosafety Symposium Program Chair.
Paul provided lead effort on the CEN Workshop on Biosafety Professional Competencies and participated in the extended Biosafety Advisory Group meeting which led to the WHO Laboratory Bio Risk Management Strategies Framework for Action 2012-2016. He participated in the multiagency, multisector workshop that created the Guidelines for Biosafety Ad Hoc reviewer for the Guidelines for Biosafety in Teaching Laboratories. Paul was also Director/Head for WHO Collaborating Centre for Applied Biosafety Programs and Training. This collaboration provided scientific and technical biosafety/biosecurity consult; assisted WHO with the development of international policies, guidance, and recommendations associated with bio risk management and the transport of infectious substances; assisted and supported WHO in strengthening laboratory bio risk management; as well as assisted WHO in developing many training tools. Paul coauthored a chapter in the Biological Safety Principles & Practices and was a member of the Editorial Board of Applied Biosafety where he also published research his research on the Use of Ultraviolet Lights in Biological Safety Cabinets.
Paul has provided numerous talks on biosafety/biosecurity to many groups, organizations, and associations over the years. He was the Co-Chair of ABSA International's Principles & Practices of Biosafety in 2011-2013 and also instructed at many of the courses. He was part of the Steering Committee for the 14th CDC International Symposium, an instructor at the Eagleson Institutes BSL3 Seminar Series Advanced BSL3 Practices and Procedures, and a highlighted speaker at the USDA Biosafety & Biocontainment Symposium in 2015.
Arnold G. Wedum Memorial Lecture Award
Established in 1976 to honor the memory of the man who is considered the "Father of Biosafety," this award is given
to an outstanding scientist or biological safety professional whose work has contributed to a better understanding
of the occupational or environmental risks associated with infectious agents or biologically-derived materials,
or whose contribution has led to the development of improved control methods in minimizing those risks.
The recipient is not required to be a member of ABSA. Candidates for the award will be chosen by the Scientific Program Committee and recommended to the Council for approval.
Past Awards
2015 Nancy Connell, PhD, Rutgers New Jersey Medical School, Newark, NJ
Developing a Culture of Awareness; Biological Arms Control, Dual Use Research, and Responsible Conduct of Science
2014 Mark Kay, MD, PhD
Stanford University, Stanford, CA
Nucleic Acid Based Therapeutics
2013 Michael Emerman, PhD
Fred Hutchinson Cancer Research Center, Seattle, WA
Paleovirology: How Ancient Events Shape Modern Virus Pandemics in Humans
2012 Mark R. Denison, MD
Vanderbilt University Medical Center
SARS Ten Years Later: Lessons for Science and Safety
2011 Paul S. Keim, PhD
Northern Arizona University
Genomics and a New Age in Global Disease Tracking
2010 David Relman, MD
Stanford University
What, Me Worry? Biosecurity in a Time of Biological Revolution
2009 Guangping Gao, PhD
University of Massachusetts
AAV Biology and Biosafety
2008 TeckMean Chua
Asia-Pacific Biosafety Association
Integration of a Global Biosafety Community—Overcoming Biosafety Challenges in the Asia Pacific Region
2007 Nicoletta Previsani and W. Emmett Barkley, PhD
World Health Organization
Biosafety, Past and Present
2006 John Howard
The National Institute for Occupational Safety and Health
Nanotechnology and Risk: The NIOSH Perspective
2005 Dennis Kasper
Harvard Medical School
A Glimpse into the Molecular Basis for Symbiosis Between the Intestinal Microflor and the Mammalian Immune System
2004 Heniz Feldman, PhD
Canadian Science Center for Human and Animal Health
The Role of Field Diagnostics for Emerging and Re-emerging Infectious Diseases
2003 David Magnus, MD
Stanford University
Ethical Issues in Confinement of Genetically Engineered Organisms
2002 Thomas M. Folks
Centers for Disease Control and Prevention
Occupational Exposures to Retroviruses
2001 Elizabeth Neumeir
GlaxoSmithKline Biologicals Safety Considerations in the Production of World Supply of Influenza Vaccine
2000 Peter J. Gerone
Tulane Primate Research Center
Biosafety, Now and Then
1999 Kirsty Duncan
University of Windsor
Searching for the Secrets of Spanish Flue in Svalbard, Norway
1998 Nancy K. Jaax and Jerry Jaax
USAMRIID University of Kansas
Experience in the Hot Zone—A Case Study in Emerging Disease Issues and Management
1997 Stanley B. Pruisner
University of California, San Francisco
Biology and Genetics of Prions
1996 William C. Patrick
Consultant to U.S. on Biological Warfare
Overview of the Old United States Biological Weapons Program
1995 Thomas Walton
National Animal Disease Center
Biosafety and Biocontainment: A View from a User's Perspective
1994 Christopher Collins
Biosafety: The European Perspective
1993 Julia K. Hilliard
Southwest Foundation for Biomedical Research
B Virus Zoonosis in Humans: A Current View
1992 Seymour Block
University of Florida
Historical Review of Disinfectants
1991 Peter Wright
Vanderbilt University
Lessons from Druidry: The Art and Science of Vaccinology
1990 Walter Dowdle
Centers for Disease Control and Prevention
Management Perspectives in Biosafety
1989 John Richardson
Emory University
Biosafety in Hindsight—Fifty Years of Progress and a Few Notable Failures
1988 Maxine Singer
Carnegie Institute
Junk Genomes
1987 Robert E. Shope
Yale University
Biosafety Concerns in Arbovirology
1986 Howard W. Larsh
Oklahoma University
Fungi: Interesting, Remarkable, and Extremely Complicated
1985 Renato Dulbecco
Salk Institute
Risks and Containment of Viruses
1984 Donald E. Gardner
Northrop Services, Inc.
Pulmonary Infections in a Compromised Host
1983 Peter W. A. Mansell MD
Anderson Hospital and Tumor Institute
AIDS
1982 W. Emmett Barkley, PhD
National Institutes of Health
Biosafety—A Discipline in Transition
1981 Fred C. Davidson
University of Georgia
Responsibility for Scientific Response to Nonscientific Judgments in the Public Arena
1980 Riley D. Housewright
National Academy of Sciences
Safe Drinking Water and Health
1979 Clarance J. Gibbs, Jr.
National Institutes of Health
Slow Viruses
1978 W. F. Kirchheimer
U.S. Public Health Service
Recent Advances in Experimental Leprosy
1977 Karl M. Johnson
Fort Detrick
Andromeda's Kitten: Class 4 Viruses in a Modern World
Arnold G. Wedum Distinguished Achievement Award
In recognition of outstanding work that provided greater knowledge in the field of biosafety, the Arnold G. Wedum Distinguished Achievement Award was established in 1976.
The Arnold G. Wedum Distinguished Achievement Award is given to an active ABSA member, or emeritus, for outstanding contributions to biological safety accomplished through teaching, research, service, or leadership.
Past Recipients
2015 – Ben Fontes, RBP, Yale University, New Haven, CT
2014 – Robert Hashimoto, MS, RBP CBSP, SM(NRCM), University of California, Berkeley, CA
2013 – Janet Peterson, RBP, CBSP, University of Maryland, College Park, MD
2012 – Debra Hunt, DrPH, RBP, CBSP, Duke University, Durham, NC
2011 – Robert J. Hawley, PhD, RBP, CBSP, Consultant, Frederick, MD
2010 – John Keene, DrPH, RBP, CBSP, Global Biohazard Technologies, Inc., Midlothian, VA
2008 – Deborah E. Wilson, DrPH, CBSP, National Institutes of Health, Bethesda, MD
2007 – Joseph R. Songer, Ames, IA
2006 – Maureen Ellis, RBP, The Department of Foreign Affairs & International Trade, Ottawa, ON Canada
2005 – David Stuart, PhD, The Baker Company, Sanford, ME
2004 – W. Emmett Barkley, PhD, Bethesda, MD
2003 – Manuel S. Barbeito, CBSP, Frederick, MD
2002 – Donald Vesley, PhD, RBP, Columbus Heights, MD
2001 – Diane O. Fleming, PhD, RBP, CBSP, Bowie, MD
2000 – Jerry J. Tulis, PhD, Raleigh, NC
1999 – Jonathan Y. Richmond, PhD, RBP, Jonathan Richmond & Associates, Southport, NC
1998 – Byron S. Tepper, PhD, CBSP, BioControl, Inc., Lutherville, MD
1997 – Melvin W. First, ScD, Harvard University, Boston, MA
1995 – Richard H. Kruse