The Hashimoto Recognition Award (the HASH)
The intent of this award is to recognize and thank individuals for their ABSA committee service.
The award was created in honor of Robert Hashimoto, MS, RBP CBSP, SM (NRCM). Bob had a long history of service and leadership within the American Biological Safety Association as well as during his 26 year career as a Biosafety Officer. He was a mentor to countless biosafety professionals and a friend to even more.
2016 Recipients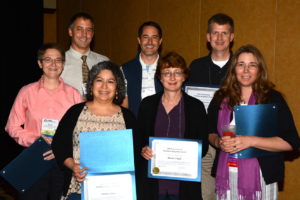 Shelly Jones, RBP
Rhonda O'Keefe, CBSP
Susan Cook, CBSP
Jeff Owens, MPH, CBSP
Yolanda Stringer, MS, RBP, CBSP
J. Paul Jennette, RBP, CBSP
Rebecca Caruso, MPH, RBP, CBSP
David Gillum, RBP
2015 Recipients
Alexis Brubaker, CBSP
Cynthia Schwartz, PhD, RBP
Deb Sharpe, MPH, RBP
John Tonkiss, CBSP
Kim Heard, CBSP
Barb Owen, RBP, CBSP
Kalpana Renajaran, PhD, MPH, RBP
Susan Weekly, RBP
Noman Siddiqi, RBP
Jacqueline Wagner
Deborah Newby, PhD, CBSP