John H. Richardson was an early mentor and teacher of biological safety. He has been a prolific author of many biosafety articles as well a contributing author to many of our recognized guides to biosafety. Some of his contributory works are: coauthoring the 2nd edition of the Biosafety in Microbiological and Biomedical Laboratories (BMBL); contributing author to: Biosafety in the Laboratory: Prudent Practices for the Handling and Disposal of Infectious Materials (1989); contributing author to: Nonhuman Primates in Biomedical Research: Biology and Management (1995); as well as contributing author: Laboratory Safety: Principles and Practices, 2nd edition.
The John H. Richardson Special Recognition Award was developed for, and shall be given to an individual, to recognize them for a specific contribution that has enhanced the American Biological Safety Association and/or the profession of biosafety. The recipient must be a member of the American Biological Safety Association.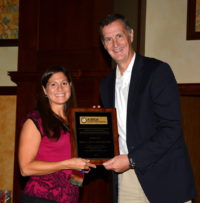 2016 Recipient: Robert J. Emery, DrPH, RBP, CBSP
In recognition for a specific contribution that has enhanced the American Biological Safety Association and the profession of biosafety this year's recipient is Robert Emery. In addition to his professional duties as Vice President for Safety, Health, Environment & Risk Management for the University of Texas Health Science Center at Houston and Professor of Occupational Health at the UT School of Public Health, Dr. Robert Emery has been actively involved in multiple teaching, research, and mentorship activities associated with the biosafety profession. Bob has been a long term, active member of ABSA International, is both an RBP and CBSP, and has contributed research articles to the ABSA International journal Applied Biosafety. Three years ago, Bob received a workforce training grant for the development of a novel biosafety technician certificate program in collaboration with Houston Community College. This program was unique in that it specifically targeted training for disabled veterans and minority populations. Bob also created a 3 day Biosafety Officer continuing education course which is hosted by the NIOSH sponsored Southwest Center for Occupational and Environmental Health. Bob also regularly provides two very popular professional development courses on Biosafety Program Management as part of the annual ABSA International Conference. Because Bob is also board certified in six other areas beyond biosafety (health physics, safety, industrial hygiene, hazardous materials, security and risk management) he has provided numerous professional development courses that served to increase awareness of the biosafety professional amongst these groups. For example, Bob regularly provides a continuing education course for the Health Physics Society entitled "Introductions to Biosafety for Health Physicists" Most recently, Bob helped create a graduate-level academic course in Infection Control and Biosafety within the UT School of Public Health Biosafety that is designed to serve as the foundation for an envisioned academic track in support of these fields
Dr. Emery is also actively involved in many research activities and has a number of publications in the field of biosafety in peer-reviewed journals including Applied Biosafety, the Journal of Occupational Environmental Hygiene and the American Journal of Infection Control. Dr. Emery provides service and leadership to the biosafety profession in many ways. He was instrumental in laying the foundation for the creation of the Southern Biosafety Association, which is an ABSA International affiliate serving Texas and the surrounding states. He also serves as a mentor for many graduate students and practicing professionals and is constantly making young professionals aware of the importance of professional association membership. In addition to becoming certified himself, Bob has encouraged and supported 5 others to achieve board certification as CBSPs.
Past Recipients
2015 – Sean Kaufman, MPH, Behavior-Based Improvement Solutions, Woodstock, GA
2011 – James M. Welch, Elizabeth R. Griffin Research Foundation, Kingsport, TN
2009 – William C. Griffin, MD
2006 – A. Lynn Harding, MPH, CBSP, Chattanooga, TN
2005 – Patrick Condreay, PhD, GlaxoSmithKline, Research Triangle Park, NC
2004 – Jerome P. Schmidt, PhD, CBSP, San Antonio, TX
2003 – Phil Hagan, MPH, Georgetown University, Washington, DC
2002 – Benjamin Fontes, MPH, CBSP, Yale University, New Haven, CT
2001 – Richard Fink, CBSP, Wyeth, Andover, MA
2000 – Elizabeth A. Gilman, RBP, CBSP, Wyeth, Cambridge, MA