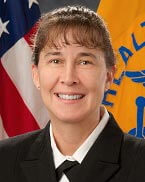 Daphne B. Moffett, PhD
Dr. Moffett is a Technical Advisor for Polio Containment to the World Health Organization (WHO) in Geneva, Switzerland. She plays a senior role in leading global, regional and national stakeholders in the implementation of polio containment activities which aim to prevent inadvertent or malicious release from facilities and transmission of poliovirus.
Dr. Moffett has 20+ years of public health experience and holds the rank of Captain in the United States Public Health Service (USPHS). Prior to joining WHO, she was the CDC Central Asia Regional Director with leadership and oversight of CDC programs in Kazakhstan, Uzbekistan, Kyrgyzstan, Tajikistan, and Turkmenistan. Programs included Global Health Security, laboratory strengthening, training of epidemiologists, clinicians, and laboratorians in recognition, handling, and reporting of extremely dangerous pathogens, FELTP, HIV/AIDS work, International Health Regulations, and influenza surveillance. She also previously served as the Associate Director for Science (ADS) in CDC's Tanzania office guiding and reviewing the science and public health research portfolio for HIV/AIDS and TB. And previous to that, she was the Acting Director for the Health Systems Reconstruction Office in the CDC's Center for Global Health where she was responsible for leading public health strengthening and reconstruction efforts in Haiti and overseeing a $162 million portfolio.
Dr. Moffett has significant deployment experience in domestic and international emergencies. During the Ebola response in West Africa, CAPT Moffett deployed to Sierra Leone to serve as the epi team lead and contact tracing lead for CDC's Ebola response. She worked closely with the Ministry of Health's National Surveillance Officers to deploy a viral hemorrhagic fever surveillance system and to develop and implement contact tracing and quarantine policies. Immediately following the January 12, 2010 earthquake, she deployed to Haiti to serve as an agency expert in environmental health, sanitation, and toxicology. She served multiple tours of duty in Haiti as the Public Health Surveillance lead, Cholera Team Lead and Acting CDC-Haiti Country Director. She also deployed for US domestic responses to Hurricane Katrina, Anthrax, 9/11, and has been recognized by US CDC for expertise in chemical weapons of mass destruction and industrial chemicals and has served as an on-call expert during US national events.
Sessions