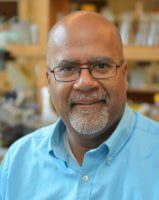 Paul Turner, PhD
Paul E. Turner, is the Acting Dean of Science, and Elihu Professor of Ecology and Evolutionary Biology at Yale University. He holds a secondary appointment in the Microbiology Graduate Program at Yale School of Medicine and is an affiliate member of the Microbial Sciences Institute at Yale West Campus. The main focus of Turner's research is to study the evolutionary genetics and genomics of microbes, especially virus ability to adapt (or not) to biotic and abiotic environmental changes at all levels of biological organization: molecules, proteins, cells, populations, communities and ecosystems. This work is highly interdisciplinary, employing molecular biology, microbiology, computational biology, genomics and mathematical-modeling approaches, and especially experimental evolution studies under controlled lab conditions. The Turner lab group studies a wide variety of RNA and DNA viruses, especially bacteriophages that specifically infect bacteria, as well as vector-borne viruses that are transmitted by arthropods such as mosquitoes. His basic research uses rapidly-evolving microbes to test fundamental topics in biology, such as the evolution of genetic exchange (sex); the evolution of specialist versus generalist resource-use; the evolution of thermotolerance; and the evolution of genetic robustness (phenotypic constancy despite mutational change). In addition, his studies concern the ecology and evolution of infectious diseases, such as testing theoretical predictions of pathogen evolvability and emergence on novel hosts. Lastly, Turner studies evolutionary medicine, especially the use of 'evolution-thinking' to better understand human illness and to discover novel disease treatments. These applied projects concern the development of new virus-based therapies to treat antibiotic-resistant bacteria and to attack cancerous tumors.
Turner received his undergraduate Biology degree in 1988 from the University of Rochester and earned his Ph.D. in Zoology (certificate in Microbial Ecology and Evolution) in 1995 from Michigan State University, where Richard E. Lenski served as his thesis advisor. He conducted postdoctoral training via an Intramural Research Training Award Postdoctoral Fellowship with Jeffrey Cohen at National Institutes of Health in Bethesda, MD; a National Science Foundation-NATO Postdoctoral Fellowship with Santiago Elena at the University of Valencia in Spain; and a National Science Foundation Minority Postdoctoral Fellowship with Lin Chao at the University of Maryland-College Park. Turner joined Yale University in 2001 as an Assistant Professor and gained tenure as an Associate Professor in 2007. He then became Full Professor in 2011, before receiving an endowed professorship in 2017. Turner served three years as Director of Graduate Studies and seven years as Departmental Chair of Ecology and Evolutionary Biology at Yale University.
Turner has published nearly 100 peer-reviewed journal articles, including papers in prestigious scientific journals such as Nature, Science, and Proceedings of the National Academy of Sciences USA. He has also published numerous book chapters, as well as reports for government agencies and private industries. His external awards include competitive grants from private foundations such as Cystic Fibrosis Foundation, the Howard Hughes Medical Institute, Bill & Melinda Gates Foundation, and the Blavatnik Family Foundation, as well as from federal agencies including National Institutes of Health, National Science Foundation, and NASA. Turner has served as associate editor for scientific journals such as Virus Evolution, Evolution (International Journal of Organic Evolution), and Evolution, Medicine and Public Health. His service to the scientific community includes the Committee on Minority Education and Division Councilor of Evolutionary and Genomic Microbiology for the American Society for Microbiology; and the Biological Sciences Advisory Committee of the National Science Foundation.
Turner's honors include a Career Enhancement Fellowship from the Woodrow Wilson Foundation; the E.E. Just Endowed Research Fellowship, and William Townsend Porter Award from Marine Biological Laboratory in Woods Hole, MA; and as a representative in the United States delegation at the joint U.S.A.-Russia Workshop on Infectious Disease held in Novosibirsk, Russia. Turner has delivered numerous invited plenary and memorial lectures at international science conferences, and honorary lectures at colleges and universities. Turner was elected Chair of the Gordon Research Conference on Microbial Population Biology (2013), and Chair of the CNRS Jacques Monod Conference on Viral Emergence (2019).
To date, Turner has trained seventeen postdoctoral scientists, eight PhD students and two Master's students, and currently mentors three postdocs and three graduate students. He has also trained 70 undergraduates, many who served as co-authors on scholarly publications.
Sessions